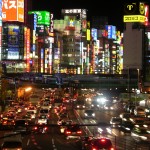 We are exploring travel in Yr4 – travel to our Target Language (TL) area of Japan. I have taken what was a one-day experience of street view (that I used to use to revise 'directions' – no, don't do that any more!) and expanded it to a target language exploration of Tokyo. Now your language may not be Japanese but the ideas are applicable (and your access to resources probably similar). Please note that my school is not heavily tech-friendly so I had to rely on using a traditional 'computer lab' for this plan!
It begins with….Tokyo Neighbourhood Pre-reading in TL. I use the White Rabbit Express level 4 reader about Tokyo called "東京歩こう". Students are asked to select 5 areas of Tokyo and read/find information. This is a graded reader resource (for reasons outlined in many previous posts), written by Japanese for Japanese learners. Most importantly it  provides a super overview of Tokyo in the TL. Students had 2 – 80 minute classes (with some time taken for our on-going Music Mania – post to come). They read in pairs utilizing strategies developed in their just finished story unit. As they read they answered questions in the TL about the neighbourhood including "What 'type' of neighbourhood is it?", "Where in Tokyo is it?", "If you went there what things would you see/activities would you experience?" and "If you went what would you want to go see?"
Once the reading was done – off to the online field trip. Students are encouraged to have their own online resource (we did this in a lab because we're a low-tech school) with a partner nearby to 'consult'. It is designed to be done in any order – except that I think the Trip Advisor reading piece should be done before the 'using' activity. I sourced all of these online with the idea of giving students a chance to see and hear Tokyo and it's adaptable to any place/language. (A link to their handout is here: Trip Handout.)
Street View – Iconic Tokyo Places: I love Google's street view – because it puts students 'on the ground' in the place. I give pictures of 5-6 iconic buildings/areas in Tokyo and asked students to 'go there'. Then once there – to go exploring. What do they see, what can they read, what's there? This is the only requirement – nothing to write or record…just experience. (Note: some students had never used street view before…so it was a real learning experience).
Street View – Neighbourhood You Choose: Using the reading exercise we did I ask students to go 'find' some of the places they selected as "I want to see…" from their neighbourhood reading. That's it…go explore and experience. They really enjoyed this – going to places, going into buildings, reading/viewing and 'seeing' the various areas…
Trip Advisor Hotel Information in TL: On to some more reading – I printed out the information on one hotel from Tokyo and ask them to use the information to complete a few questions. Some had not heard of Trip Advisor or even knew what you considered in booking a hotel – all good skills to acquire. This was done with a 'paper' printout and gives them a good first look at what this site is like. They answer questions in English based upon the information.
Trip Advisor for Your Neighbourhood in TL: Students are asked to go back to their reading and select one neighbourhood. Then, using Trip Advisor's Japanese site, find a hotel, a restaurant and 3 things to do in that area. Note – for Japanese online the Chrome add-on Rikaikun (Rikaichan on Firefox – is a 'game-changer'. It allows a student to roll over Chinese characters on a site and gives the reading/meaning. Essential for my students as they do not learn all 2000 characters Japanese use in class!). They waded in finding hotels, exploring menus, commenting on the prices (!) etc. Great experience and 'real world'.
Tokyo Metro/Tokyo Neighbourhoods (in TL): I found 4 commercials online from Tokyo Metro that promote 4 areas of Tokyo. Note that I 'download' from YouTube so I can have future access to them. I then uploaded to Dropbox (providing a quick link) and also had them on USB to load onto a device. Students are to watch the 4 commercials and answer specific (and more general questions) for each. General questions are designed to encourage them to really look/listen at the pieces such as "3 things I observed or noticed in the commercial were…" and "I wonder….". I also included a link to the audio of one of the 'theme' songs for the commercial and students listen and comment on how well it 'fit' the commercial and what 'words/phrases' they may have recognized from listening to it.
Inanimate Alice Journals…an interactive visit to several areas in Japan: There is an amazing on-line interactive episodic story called "Inanimate Alice". It is produced in various languages including Japanese. The site also links to 3 'journals' that document the main characters trip to Japan. It is written in a combination of Japanese and English. For this piece I ask the students to go through each of the journals and read, view, listen and even take the embedded language quizzes. They then send me an email commenting on what the most interesting thing they saw was, and where they would like to go that Alice went. It's a great resource for this and the first time I have used it in class. It also introduces them to the episodic story that they can experience on their own time!
Debrief...after the field trip is done we will spend a portion of the class sharing our findings/thoughts/observations with others. This can be done in the TL or not – I think it's a preference of what you going for – reaction and/or language use.
After the field trip we focus on 'travel' as we build to our Travel Fair that explores lesser-known areas of Japan. I'm excited about where this activity is, and more importantly, what tweaks and extending activities I can build into it!
Colleen