As smartphone use/ownership among students rises – so has the use of the QR codes. I add them to unit packages for links for Quizlet sites or my YouTube channel  – hoping that the ubiquitous phone in the teenagers hand will help them find support outside of class time. Some educators use them as a required part of the lesson. I know that not all of my kids have smart phones capable of reading codes so I don't require them. Even when I provide them for support I also provide a shortened link to the same material. In a previous post I wrote about a number of practical ways to use them but I didn't really focus on another reason to use them in your teaching.
To me, the fact that they are a visual, and don't come with any 'words' attached also means that we can use them to reward the curious. This year I am trying an 'experiment' in my room – just to see who is curious enough, or aware enough to want to know more. I won't be giving out extra marks for this, but I will wait to see if any students comment on what I have done.
A QR code on my door – I used an app called "Tellagami"  to create a short animated video introducing who I am and what I teach. Then using a free QR code creator I generated a QR code (it's the one at the start of  this post). It's on window of my door – right where students might notice. If they are curious they will find out a bit about who I am. Almost as important to me is the message it sends "We try new things in here!"
A visual/QR code bulletin board – One of the reasons that I like QR codes is that they don't come with any words attached. This semester I set up a bulletin board with areas in Japan – outside of the major cities. I dug up some older picture cards I had and put t
hem together with a map. The only information provided is an arrow to a part of the map and a QR code. The code links to a page for the city or region. This bulletin board will come into play later in my grade 12 course but for now I notice kids looking, pointing and sometimes scanning.
A 'What is This'?  – I receive a magazine a few times a year and one of its pages features objects/items that are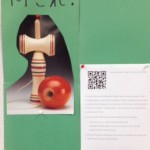 unique to Japan. In this case I have the picture/explanation but I remove the title (and black out the word in the text if needed). Instead I substitute an audio QR code. They are easy to make via the qrvoice website and available for many languages. Students can read about the object but won't know what it is until they scan and hear the word.
If you need a code reader on your phone – search your appropriate app store – there are a lot of free ones there. Making QR codes is easy too – there are several sources out there including:
kaywa  – make sure you select "static" not dynamic for the easy creation
goo.gl  – it's a url shortener and, if you click on 'details'  create a QR code
qrvoice  – type your text, select your language and the code is generated
I'm hoping that the lack of information, and the ease of scanning the code, will reward the curious. And curious learners will, I hope, be more willing to risk in my classroom.
Colleen