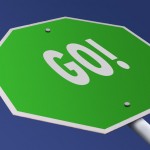 This year, I have changed my class setup to pods of 4 desks (here's why) – and am really pleased with the energy and interaction in the room. I made my first set of signs (numbered 1-8) as I waded into 'stations' – and, as I introduced new activities, I began to see how convenient they are to have, and am adding more sets to my "ready to use" collection.
What are they made of/Where are they?  In this day of easy technology I like the 'old school' feel of the paper sign. I chose bright yellow card-stock – regular 8 1/2″ x 11″, folded in half, that can stand independently in the middle of the 4 desk pod.  They are clipped together and hung them from a push-pin beside
my white board. Easy for me to see and grab when needed.
What's on them? My first set is simply a set of numbers. I have 7 'pods' in my room so they are numbered 1-8. 8? With students away, or a different focus for activities I find that I can need more than 7 groupings – and so I always have an extra ready to go if needed. I have used these for review stations, for seating charts for kids to 'find their table' and for groupings for everything from review to pre-activity planning.
My second set says "I think so…" on one side, and "I don't think so.." on the other. I've used them for discussions for readings, debate practice and anything where students can express an opinion on a point of view/topic. Last week they were used for the Yr3 "recycling is/isn't important" debate as students moved table to table practicing arguing for either side with different partners.
My third signs are very basic – and used for my 'split' class that I teach. I see my IDS (Independent Directed Study) Group – a post-Yr4 class –  in class every 2nd week. As I'm often changing how I set up for any given activity – the signs set out where they will be sitting in the room.
My newest set is with one of the first three characters of one of our TL scripts  – "あ" , "い" and "う" .  If I taught a non-character language it would be "A", "B" and "C".  I have 3 of each – which allows several tables to be part of the same group. These allow me various grouping options. For example, it can let me easily set my students into groups for those I know "get" a concept (and can move into an activity) with those that may require some review prior to moving on.
Quick to make, easy to see and available whenever I see the need to group – my 'sign' collection is sure to grow! Do you use this kind of table label and what works for you?
Colleen