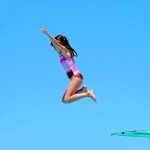 We often tell students what we value in the classroom but how do we know the message is getting through? How do they interpret what I am trying to get them to be: risk-takers, supportive classmates, inquisitive learners? I never know unless I ask.
It is my custom to use various rubrics after an oral activity. This can be for a short interaction or a longer conversation circle. In any case I like to get them to think before they fill in the rubric and self-evaluate. I think it leads to more honest and meaningful choices once they get to the rubric itself. The thinking, for me, means that they are asked leading questions. Typically I put two 'starters' on the board and they are asked to respond to at least one.
This week my Yr 3 and Yr 4's both completed their 30-40min conversation circle activities and I wanted to find out if they were stretching, risking in their interaction or just happy to stay in that comfortable place. So on the board I wrote "Today I took a risk and…." and "I didn't use English and here's how I did it…" as their pre-rubric response options. Over 75% of students responded to the risk statement and their replies, some of which are below, show me that they are 'getting it'.
Today I took a risk and…
-tried to use follow up questions so the conversation could go on more easily

-talked about something we didn't necessarily have all the vocabulary for and it was an interesting conversation

-didn't resort to English when someone didn't understand – I used gestures and synonyms (it worked!)

-asked questions that I hadn't written down in advance

-just used what I knew – I didn't rely on any notes

-tried to create sentences with more details than usual in them

-asked my table – in Japanese – to explain something when I didn't know

-asked more questions than I usually do
Their answers show me that my message  – to be a risk-taker in using the language – is paying off. If it didn't – then I know that I have work to do to get them to be willing to step out of their comfort zone. My favorite response?
"Today I took a risk and tried to include my own personal 'sass' in my speaking!"
 Yes –  I'll take that!
Colleen