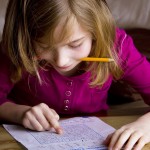 I'll admit it. For every unit – a set of vocabulary. Used to ensure a basic set of words to discuss the topic.  My goal in this being that students have a common vocabulary with which to interact. But it's the extra's that are the key – the words that personalize the learning for the student – and expands their ability to express what they want to say.
Recent posts from Amy Lenord (@alenord) and others around"leaving the list' behind – have challenged me to look not as much at the basic vocabulary but rather at how I deal with the requests for "What is the word for__? or "How do I use ____?". And so a 'shift' for me  is happening – one that is enriching and empowering my students.
Teacher Shift – Attitude: Part of the move beyond the list does I think come when you are 'comfortable' with your program. Not only with 'how' it runs (PBL? TPRS?) but also where it is running to. It took me a while to come around to the idea of more choice. Not because I didn't favour having a language vocabulary that is personal – but because I was still forming how the curriculum and the course would be delivered. I was so busy worrying about their ability to communicate – I forgot that this was the focus – and that it was my job to show them 'how' to communicate;  how to ensure their listener understands them, clarify or explain a word  or concept, adjust vocabulary as needed.  They could take it from there.
An example? My Grade 12's regularly do a travel unit in which they 'sell' tours to various parts of Japan to their classmates. It can be tough to predict what vocabulary is needed in advance. This time, I asked them to add the words that they each needed that they felt were key to understanding their tour. Yes – we crowdsourced the vocabulary – the words stayed up on the board during the preparation time. Each day they spent a small amount of time (5 min) picking a word (or 2) off the board – telling their partner they didn't understand – and playing out how to explain what the word meant.
Teacher Shift – Opportunity: Not only did my willingness to add vocabulary require a mental shift, it also required an opportunity shift. That is – I needed to provide students with the settings that allowed them to show/use the words that they needed to use.  Opportunities for personal expression – using the full range of vocabulary they have acquired had to be expanded. How did I allow them to show/use what they knew?
An example? For my first year students it has been as simple as adding a large empty box on their unit vocabulary sheet. I put a heading "Extras WE/I Want to Know:" on it. Whenever a phrase or word comes up in an incidental way in class I put it up for them and they are now recording it there.
For my more senior students it means a shift in how I ask them to show me what they understand. They can utilize any words at their disposal to complete the task at hand. Therefore it is becoming evident in the choice that I am allowing students. "Please show me that you understand the concept ___" means that students can use any vocabulary at their disposal – and are not limited to what is required. In class interaction the motto is "you can use it if you can explain it (or any other way you can share the meaning)."
The more I learn to step back, and empower my students to step up and use the language, the more that choice plays into the mix. I have learned that it is my job to coach and support – not constrict their language learning. It's true that there are some times when students are not quite ready to take on a concept due to language ability. But if I ask my students to risk and try with a new language – why am I holding back their ability to express themselves?
I want to thank the #langchat community – especially those like Amy who regularly question, mentor and more importantly share their journey with us. It inspires teachers like me to strike off in new directions as well! More choice to come!
Colleen