I know –  all that effort to be "paperless" and in the cloud as it were. But I still like to have a copy for me – a hard copy. Call me old fashioned but if anything went wrong in the digital world, and any of my 3 backups failed I'd have 'something' of a roadmap to go by.
However those of you that have tried it know that printing out a unit of notes – especially if you save each lesson as a  particular note – is not as easy as it looks. It took me a while to figure out what worked for me and I thought that I would share. Basically it involves copying and merging groups of notes together. Here's how I did it:
1) Create a notebook called "Printing Notebook" (or some such title)
2) Select the group of notes that you want to print and Copy them (Note>Copy to Notebook) into that notebook
3) Ensure that the group of notes is in the order that you want them to be. When Evernote 'merges' notes it will do so in the order the group of notes is in. I like mine to be in the order of Unit Handout, Lessons, Tests – so it took a bit to fiddle with the titles to make certain that the notes were in the order that I want them
4) Select the group of notes and then look to the right – there will be a 'merge' option
5) Hold your breath and press it!
6) Rename the 'merged' file to indicate it's status (Eg "Chapter 1 Unit handout, lessons merged")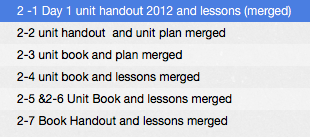 It's not super elegant and may take a bit but I have a copy of each of my chapters…and if you are looking for a solution this might be one for you!
Colleen