This is me…me at 3:45am up & worried and trying to figure out how to  'fit it all in' before the end of classes June 17th. This is me trying to do what I have always done – the same way….the same thing…This is me trying to fit in the final interactive IPA and prep for a department required oral final. This is me failing…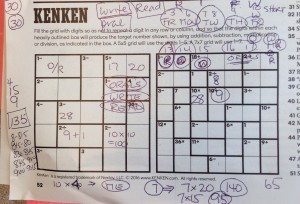 You see I was trying to fit in the Yr4 Travel Fair and give them time to prep for the oral final. And it wasn't working. I couldn't get the 'time to do the project that I always did' and give them appropriate time for the department required final. And then it came to me…..#forget the fluff. Drill down to what is key… What is key in the travel fair? Is it the brochure they always wasted too much time making? The brochure they wouldn't see any more in real life because they would see a webpage instead?  What is/was that brochure really for? It is for them to consolidate the information for a really good interpersonal oral exchange on areas in Japan to visit. That's what is key. So I threw it out. I created a trip sheet that just asked them to organize their information in the TL – not 'create a product'. The information they would share, explain and even learn about. The 90 minutes they will spend talking/listening/learning from each other. The communicating information part is what is key.
What about the 'final'? You may find it an easy topic but the final is an interactive show and tell. It demands good listening, lots of follow up questions, thinking on your feet as you explain & answer. Typically I bring them in in 3's and they have 15 minutes for this. But I have (see photo above) no time. And then it came to me. We have worked for 4 years to be students that are risk-takers, that know what to do when they don't understand, that support/assist each other in communicating. I just need to hear that in action – I don't have to 'police' it by being there. So forget that 'fluff' – they will go in teams of 4 to separate areas and record their conversations. They won't feel the pressure of doing this in front of me – and I will trust/respect that they will go 'all in' to do this. Then they'll get me the audio file. My being there? The fluff. The communication process. The key….
Next year – less fluff…..in everything….at every opportunity…less fluff and more of what is 'key'….
C
And yes…I finished the puzzle too.