Have you ever gone back and looked at your 'daybook'? For me it was always on paper in a red covered planner. Static, words only, hardly a way to describe what is going to happen, and what does happen, in my class. With my focus on technology, and a quest to reduce my paper footprint, I have been diligently using Evernote to record my lesson plan, and adjusting it during class.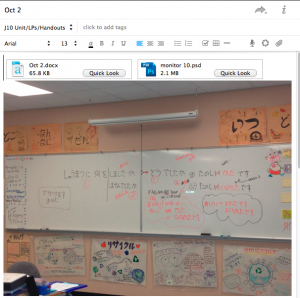 So what does my evernote lesson plan look like?
Print – After teaching for 18 years the file contains my basic plan for the day- entered into Word at this point and uploaded by date.  I follow along and modify at the end of class – did I do what I planned to do? What changed? Any paper-based quizzes etc are also here.
Audio – If I am doing a listening exercise with a pre-made clip, or a song, or something else I also upload the audio that I added to the lesson. As I carry my text's audio file on my computer I don't include that…it's at my fingertips.
PSD/PDF files – As a Mac user from way back I started to use a tablet and photoshop to upload and annotate my pdfs. Any special psd's are there. Yes I know that there are now other options for annotating pdfs – I'll get to that! I also include any notes that I gave in .jpg format – the same ones I publish on my site.
Photos – yes I still sometimes use a board – and often the 'end of the process' is key. So when needed I take a picture of what happened. A great reminder of what I did.
As I move along on my lesson plan compilation I am curious to see what else I will add!  What do you include?
Colleen